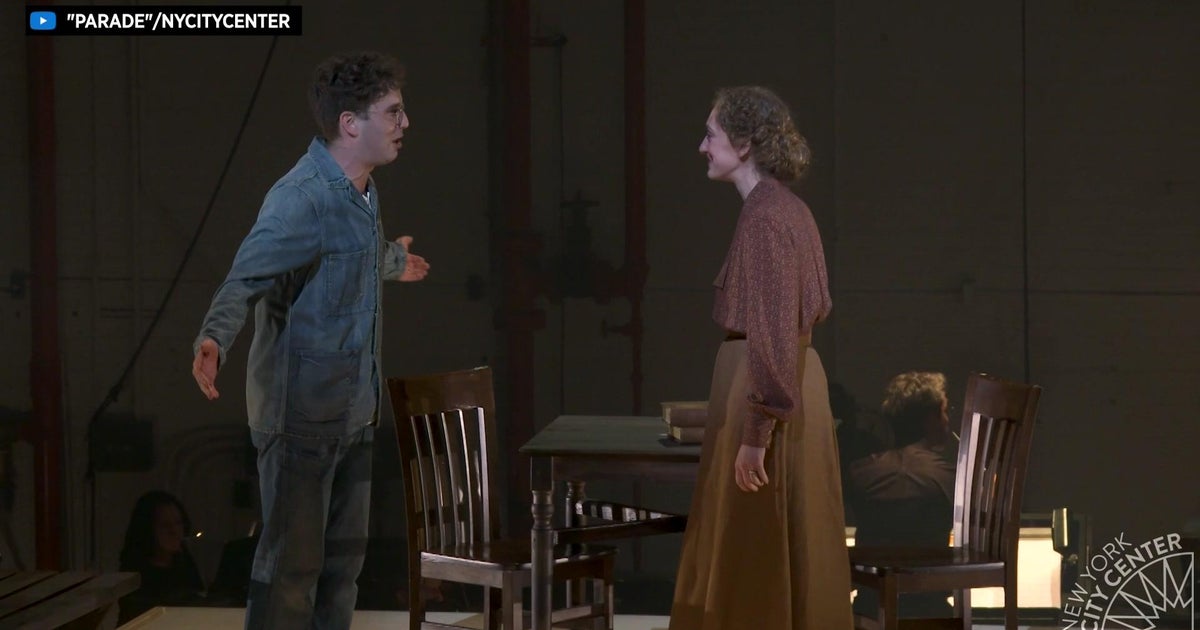 Theatergoers waiting to see the sold-out first preview of a classic Broadway musical Tuesday were interrupted by neo-Nazis chanting, holding banners and passing out false information about the show's subject.
The group was identified by the musical's producers as the National Socialist Movement. The group is the largest membership-based neo-Nazi group in the United States and is known for "violent antisemitic rhetoric" and "its racist views," according to the Southern Poverty Law Center.
The musical, "Parade," first appeared on Broadway in 1998 and is being revived at the Bernard B. Jacobs Theater in midtown Manhattan after an acclaimed concert production in 2022. It tells the true story of Leo Frank, a Jewish factory manager who was falsely accused of murdering a 13-year-old girl named Mary Phagan in Georgia in 1913. After Frank's sentence was commuted, he was murdered by a lynch mob.
The trial, which historians believe included false testimony, and the antisemitic media coverage at the time led to the creation of the Anti-Defamation League, which still exists today. Frank was also granted a posthumous pardon in 1986, and the Georgia Historical Center erected a marker honoring Frank in 2008. In 2018, the first national anti-lynching memorial was placed at the site. 
The members of the National Socialist Movement outside the theater claimed that Frank was a "pedophile" and criticized the ADL. Social media footage of the protest quickly went viral, leading to outrage online. 
"If there is any remaining doubt out there about the urgency of telling this story in this moment in history, the vileness on display last night should put it to rest," said the play's producers in a statement Wednesday. "We stand by the valiant Broadway cast that brings this vital story to life each night." 
Ben Platt, who plays Frank, said in a video message that the first preview of the show was "so wonderful and special" until he saw videos showing the scene outside the theater. 
"Naturally, the news of the fact that there were some protesters at our show has spread a lot, and that has kind of (been) the stamp on the evening, in terms of public perception of the evening," said Platt, 29. Platt won a Tony Award in 2017 for his role in "Dear Evan Hansen." 
Platt said that the group was "bothering some of our patrons" and spreading the "antisemitic rhetoric that led to this whole story in the first place." 
"If you don't know about it, I encourage you to look up the story and most importantly encourage you to come see the show," Platt said. "It was definitely very ugly and scary but a wonderful reminder of why we're telling this particular story and how special and powerful art, and particularly theater, can be. And just made me feel extra, extra grateful to be the one who gets to tell this particular story and to carry on the legacy of Leo."  
Recent years have seen a spike in antisemitism in the United States. According to a survey by the American Jewish Committee, more than 80% of Jewish adults in the U.S. say that antisemitism has increased in the past five years. Two-thirds of Jewish adults surveyed said that they had seen or been the target of antisemitic remarks and threats online. And 43% of survey respondents said they see antisemitism in the U.S. as a "very serious problem."