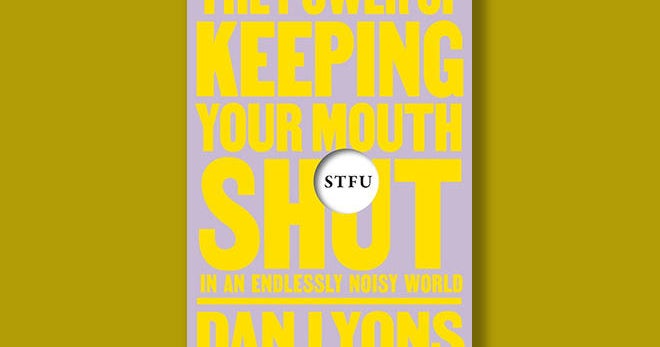 We may receive an affiliate commission from anything you buy from this article.
Author Dan Lyons' new book, "STFU: The Power of Keeping Your Mouth Shut in an Endlessly Noisy World"  (Henry Holt), is a call to talk less, and to listen more.
Read an excerpt below, and don't miss Dan Lyons on "CBS Sunday Morning" March 19!
---
"STFU: The Power of Keeping Your Mouth Shut in an Endlessly Noisy World" by Dan Lyons
Prefer to listen? Audible has a 30-day free trial available right now.
---
My daughter was freaking out. She had a paper due for her English class in two days and had nothing to say about these poems. She was going to get a zero for the assignment, fail the class, wreck her GPA, and not get into college.
She was sixteen, a junior in high school. I wanted to fix the problem for her. I wanted to tell her how to do the assignment. That's what I had always done in the past. And guess what? It never worked. The more I tried to help, the more upset she became.
So, this time I tried something different: I sat there and STFU. I told myself to just listen to her and trust that she would figure it out on her own. It was agonizing. She was caught on the Anxiety Wheel, and the more she talked, the worse it got. The overtalker in me was dying to be let out of its cage. But I kept my resolve.
Finally, my daughter noticed that I wasn't talking and said, "What are you doing? Why are you just sitting there?"
"I'm listening," I said.
"You're not listening. You're looking at your phone."
"I'm not," I said, and pointed to my phone, which I had put on a table, out of reach.
"You're ignoring me."
"If I wanted to ignore you, I'd leave the room."
"Well, you're not helping me, so I guess you don't care," she said.
"I know you're feeling bad," I said.
"Yeah, no s***," she said.
She laughed. I did, too.
Gradually, she grew calm. The Anxiety Wheel that had been spooling up began to slow down. And then she started talking about the real problem, which was not the English paper. The real problem was that she was sixteen and adulthood was racing at her way too fast and that, like most kids her age, she was afraid she wasn't ready for it. She was about to take the SATs and apply to colleges. She was scared—not only that she might not get into college but that once she got there, she might not be able to handle it.
Just beyond that horizon looms the vast unknown of adulthood, and it's a little terrifying. You spend your whole childhood saying you can't wait to be a grown-up and get out on your own, but then you find yourself standing at the threshold—and, suddenly, you're not so sure, but it's too late. Ready or not, you can't turn back. And no one is ready.
These were not things I could fix, but she didn't want me to fix them. She just needed to be assured that it was okay to be scared and that whatever life had in store for her, she could handle it, and most important, she would not have to face it alone.
Excerpted from "STFU: The Power of Keeping Your Mouth Shut in an Endlessly Noisy World" by Dan Lyons. Copyright © 2023 by Dan Lyons. Reprinted by permission of Henry Holt and Co. All Rights Reserved.
---
Get the book here:
"STFU: The Power of Keeping Your Mouth Shut in an Endlessly Noisy World" by Dan Lyons (Hardcover)
Buy locally from Indiebound
---
For more info: