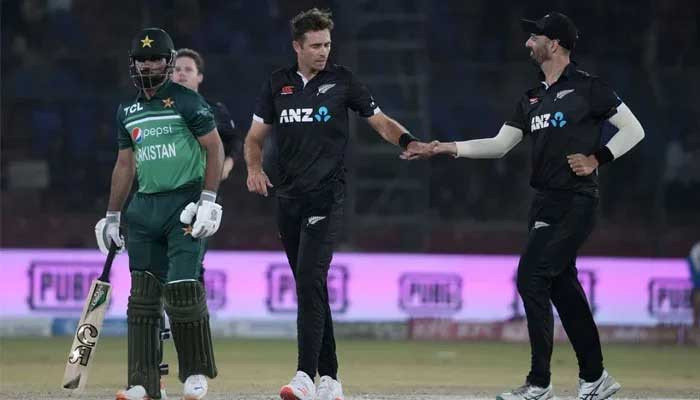 The tickets for the upcoming three-match T20Is series between Pakistan and New Zealand in Lahore will go on sale from tomorrow (April 2) 11am.
The matches are scheduled to be played on April 14, 15 and 17 at the iconic Gaddafi Stadium.
The Pakistan Cricket Board (PCB) has shared the pricelist for the tickets according to different enclosures at the stadium. The prices range between Rs250 to Rs3,000.
VVIP Enclosure (Wasim Akram) — Rs3,500
VIP Enclosures (Fazal Mahmood and Imran Khan) — Rs2,000
Premium (Raja's and Saeed Anwar) — Rs1,000
First class (Abdul Qadir, AH Kardar, Javed Miandad and Sarfaraz Nawaz) — Rs500
General (Hanif Mohammad, Imtiaz Ahmed, Inzamam-ul-Haq, Majid Khan, Nazar, Quaid, Saeed Ahmed and Zaheer Abbas) — Rs250
"In the first phase, which commences tomorrow, the tickets will be available online at pcb.bookme.pk and fans can buy them using their original ID cards. 
"The fans will be required to bring their original ID or B-Forms (for those under the age of 18) to gain entry in the stadium," the PCB said in a press release.
It added that physical tickets will be available in the second phase from  April 6. The details regarding sale points will be announced in due course.
The ticket details for the fixtures in Rawalpindi and Karachi will also be announced in due course.
It must be noted that the schedule for the home series against New Zealand was revised recently due to elections in Punjab.
"The Pakistan Cricket Board and New Zealand Cricket have unanimously agreed to make tweaks to the New Zealand men's cricket team's tour of Pakistan for five ODIs and five T20Is," the PCB stated in a press release on March 20.
"The side will now arrive in Lahore and will play three T20Is from 14-17 April, before travelling to Rawalpindi where the final two T20Is and first ODI will be played from 20-26 April. The tour will culminate in Karachi with the remaining four ODIs to be played from 30 April to 7 May.
"This is an additional tour by the New Zealand cricket team and the matches will count towards ICC Team Rankings. The ODIs will help Pakistan to prepare their side for the ACC Asia Cup and ICC Men's Cricket World Cup 2023, while the T20I will assist the PCB to continue with their rebuilding of the side for the ICC Men's T20 World Cup 2024, which will be held in the USA and West Indies in June/July 2024."
Schedule:
Apr 14 — 1st T20I, Lahore
Apr 15 — 2nd T20I, Lahore
Apr 17 — 3rd T20I, Lahore
Apr 20 — 4th T20I, Rawalpindi
Apr 24 — 5th T20I, Rawalpindi
Apr 26 — 1st ODI, Rawalpindi
Apr 30 — 2nd ODI, Karachi
May 3 — 3rd ODI, Karachi
May 5 — 4th ODI, Karachi
May 7 — 5th ODI, Karachi