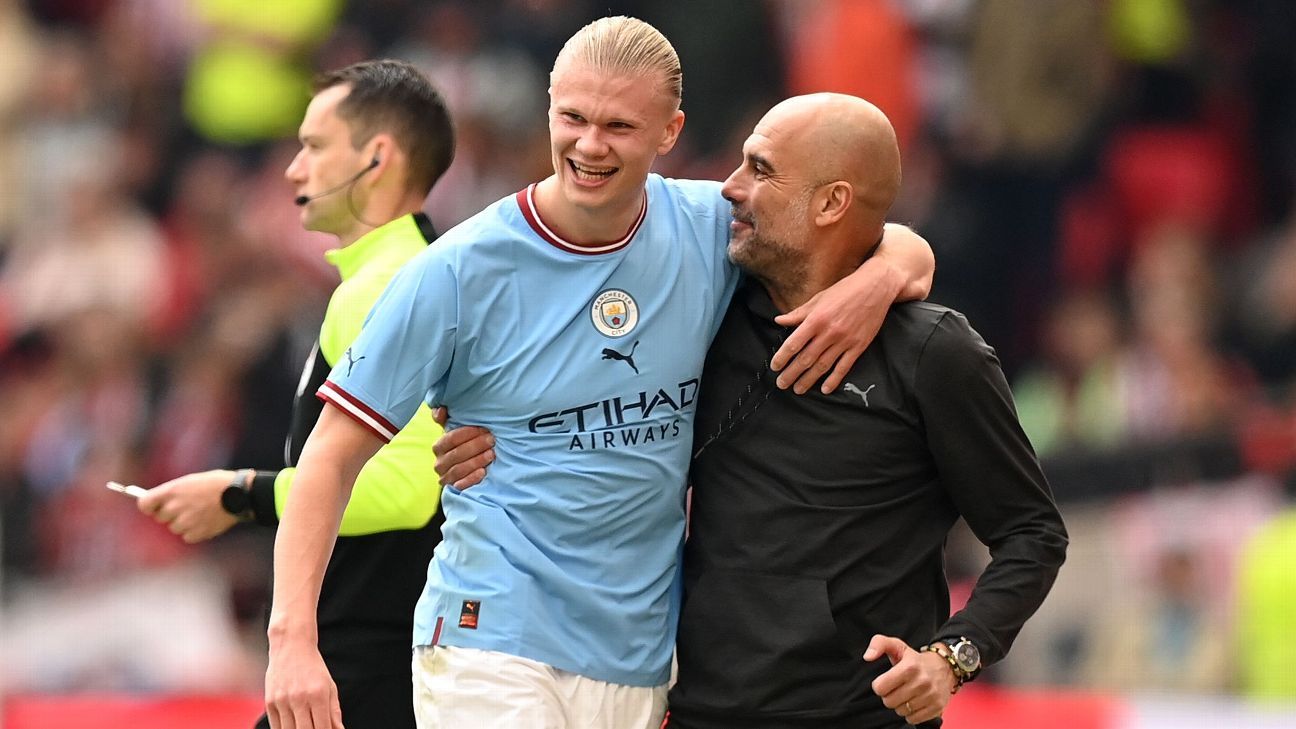 Manchester City manager Pep Guardiola says striker Erling Haaland is beginning to deserve comparisons with Lionel Messi.
Haaland reached 50 goals in all competitions with a penalty against Fulham on Sunday, a goal which also matched the Premier League record of 34 goals in a single campaign set by Andrew Cole and Alan Shearer.
– Stream on ESPN+: LaLiga, Bundesliga, more (U.S.)
Guardiola insists Messi's longevity at the top still sets him apart but says he understands the comparisons because of Haaland's numbers this season.
"No one can compare with Messi, it will not help Erling, but in terms of goals and mentality, yeah," Guardiola, who coached Messi for four years while at Barcelona, told a news conference on Tuesday.
"Messi has done it every season in the last 10 or 15 seasons, but Erling has got to the same level in terms of goals. It's almost every game, he scores a goal.
"One or two every game, he had the chances to do it but Messi is the most complete player I have seen in terms of vision, dribbles, passes, competitiveness, in many things that are difficult.
"Hopefully Erling can be so close like [to] Leo, that will be great for us and him."
A goal against West Ham at the Etihad Stadium on Wednesday will set a new Premier League record for goals in a season while Haaland could still reach 60 for the campaign with Manchester City set to play at least another nine games.
Messi reached 50 goals in six seasons between 2010 and 2019 but Guardiola believes 22-year-old Haaland has still not hit his peak and could yet rival the Argentinian's goal record.
"Always, I've said with Erling it will be tough when you look at what he has done and if he doesn't score the goals like he's scoring now people will say 'Oh, he's in a bad situation' but his game can improve a lot," added the City manager.
"We have spoken about that. The movements, I wouldn't say in the box but the game itself. I think he has that feeling 'is that enough?' I think he has the desire to get better as a player, as long as he has it he can do it. To go to work knowing you can do something better is the way.
"I know him a bit and he is so competitive and positive in his mindset. He has this incredible self-positive confidence in himself. It's not arrogance. It's self-confidence to say I am going to score.
"To arrive in his first season and score 50 already and he equalled the record for two legends in Andy Cole and Alan Shearer, so that's big."