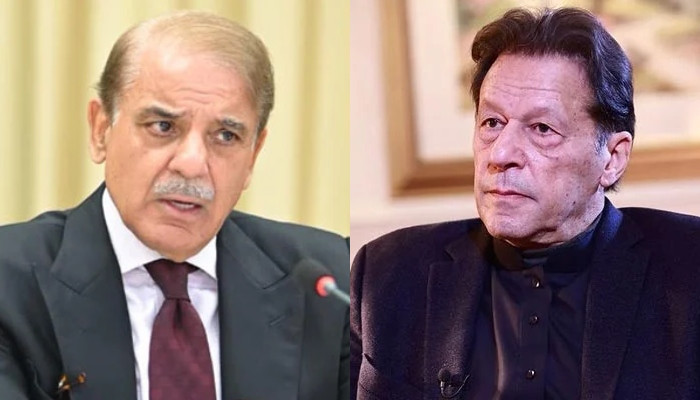 Hard-hitting tweet by PM Shehbaz comes shortly before Khan's arrest.
PM Shehbaz slams Imran Khan for his criticism of military.
Says Khan "was never interested" in finding truth about Wazirabad attack.
---
Pakistan Tehreek-e-Insaf (PTI) Chairman Imran Khan's politics is defined by "blatant lies" and "vicious attacks on institutions", said Prime Minister Shehbaz Sharif on Tuesday, while flaying his arch-rival for his criticism of the military.
The army also came down hard on Khan on Monday for his "irresponsible and baseless allegations" against a senior serving military officer.
The hard-hitting tweet by PM Shehbaz came shortly before Khan's arrest in Islamabad. 
Responding to the questions raised by his predecessor, PM Shehbaz slapped a bundle of counter-questions, saying that the PTI chief wasn't interested in learning the facts.
"You were never interested in finding the truth about the attack but used the condemnable incident for petty political objectives," the premier wrote on Twitter.
"I have no doubt that your politics is defined by blatant lies, untruths, U-turns, and vicious attacks on institutions. Bending the judiciary to your whims and behaving as if rules don't apply to you."
Saying that smearing Pakistan Army was a recurring pattern of Khan's politics since his ouster, the premier asked in his first question if the PTI chief hadn't resorted to "constant mud-slinging of the leadership of the army and intelligence agency much before the Wazirabad attack".
"What legal route did you adopt other than hurling threats and making baseless allegations almost on a daily basis," PM Shehbaz questioned Khan.
He said that the former premier was the one to refuse the offer of cooperation from the federal government and boycott the legal proceedings.
Premier's third question was about the "savaging social media campaign" against the martyrs of the armed forces in a helicopter crash in Balochistan during flood relief work. He asked at whose behest was this campaign launched.
"Which party did the troll brigade belong to that mocked the martyrs, which was a new low and unimaginable in our politics and culture. With these subversive/treacherous acts on your part, do we need an enemy."
PM Shehbaz then asked who had used religion for political purposes by describing the political agitation in religious terms, "a cunning and self-serving attempt" to expose political opponents to violence, while referring to the Madina hooliganism incident.
"Did your party leaders not condone, justify and even celebrate the incident of harassment and intimidation of an official delegation including a female minister in the courtyard of our beloved Prophet's Mosque (PBUH) by disregarding all norms of reverence & devoutness," the prime minister asked.
PM Shehbaz made it clear to Khan that he, being a former prime minister, was currently undergoing trial for corruption but still claiming "legitimacy to overturn the legal and political system".
"As for your assertion of Pakistan becoming a 'jungle', I advise you not to go there, for the facts are often bitter and disastrous. Let us keep this for another day," the premier concluded.
He asserted that what he had said in the Tweet that Khan referred to while criticising the army was " established by facts over the past few years".
On Monday, Khan attached a screenshot of PM Shehbaz's tweet about the PTI chief's allegations, and asked some questions. 
Khan had raised questions about his right to accuse anyone who he believed was involved in attempts on his life, and the "attack" on Islamabad judicial complex. 
Here are the questions from Khan's thread of tweets: 
"Can Shehbaz Sharif answer why the ISI took over ICT judicial complex the evening before my appearance on March 18," Khan wrote. 
"When Shehbaz Sharif can truthfully answer these questions, all [answers] will point to one powerful man and his accomplices all being above law," Khan wrote. 
He concluded saying that it was time that everyone accepted that "there was only the law of jungle, where Might is Right".