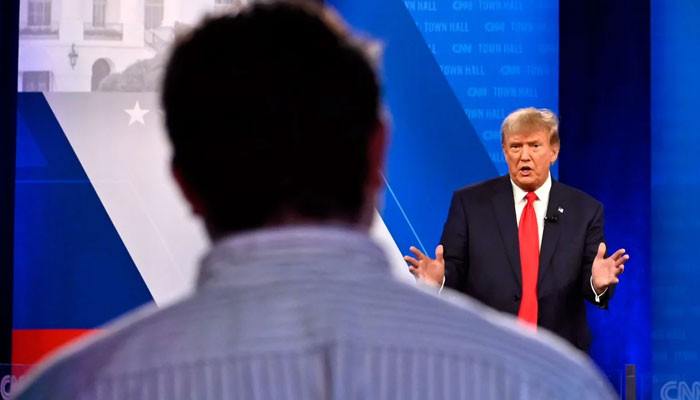 Former US President Donald Trump's contentious appearance on CNN has ignited a firestorm of criticism, as he propagated falsehoods and hurled insults. 
His prime-time appearance has triggered widespread condemnation of the news network. This event serves as a poignant reminder of the persistent dilemma faced by media organisations when confronted with the task of accurately covering the Republican candidate vying to reclaim the highest office in the nation.
However, CNN defended their decision, stating their role in holding powerful individuals accountable. However, critics argued that the network provided Trump with a platform to spread debunked claims, attack a sexual abuse victim, and praise the Capitol rioters. 
Trump reiterated false claims about the rigged 2020 election and expressed intentions to pardon his supporters involved in the violent attack on Congress. He even insulted a sexual abuse lawsuit winner. The event, watched by over three million people, received intense reactions, including criticism from Democratic lawmakers and CNN's own media reporter.
The controversy raised familiar questions about how to cover Trump, considering his frequent falsehoods and inflammatory remarks. Some believed that allowing people to form their own judgments was essential in a democracy, while others felt that CNN's decision amounted to a disservice to the public by airing entertainment rather than news. 
Similar debates emerged in 2016 when media organisations were accused of contributing to Trump's election victory with disproportionate coverage. Despite increased fact-checking efforts, the extent and frequency of Trump's falsehoods pose challenges for media organisations in debunking them all.
The situation served as a reminder of Trump's divisive nature and highlighted the difficulties faced by media organisations in covering his statements accurately. It also prompted discussions about whether the media had forgotten the lessons learned from covering Trump in the past. While some argued for responsible journalism and fact verification, others expressed concern that Trump's lies, when amplified by his position, became newsworthy.